Many people have asked me how 20 Causes, 20 Days was conceived.
The inspiration behind this project is complicated, yet simple at the same time.
My mom passed away a few years ago. While I was going through the estate she left behind, I recalled a conversation we had back while I was still in college and visiting her at her house in Lake Tahoe.
One morning, we woke up and she was in a great mood, dancing around and humming a song with a big smile on her face. A far cry from usual, as she was not much of a morning person. (like mother, like son, apparently)
I asked her why she was so chipper and she answered "Erik, I just had the best dream about you."
Intrigued, I inquired further. "That's cool. What was the dream?"
"You were doing a lot of good to help a lot of people," she replied.
She was usually a pretty straight-forward person, so when I asked what I was doing to help a lot of people, her response was a bit out-of-character.
"You know what, Erik? I'm not going to tell you what you were doing. But just know that this is what I want from you in life and this is what will make me happy."
Profound words today. But being a young-20s college kid at the time, I just kind of shrugged it off and put it to the back of my mind.
Fast forward to having to clean out her estate, and I was able to relive our entire lives together via old pictures, drawings, mementos, and countless other memory-inducing artifacts. It was during this time that I recalled this conversation.
So I got to thinking: what could I do to honor my mom's dream?
Many things crossed my mind, but nothing really jumped out at me. That said, I also wanted to accomplish a few other personal goals at the same time.
+ Challenge myself
+ Do things that are FAR out of my comfort zone
+ Do something that's never been done before
+ Learn new things throughout the process
+ All while fulfilling mom's dream
So what the heck would it be?
One morning around Halloween 2009, I remember awaking suddenly at 6am and sitting up in bed. I said four words to myself that scared the crap out of me.
20 Causes, 20 Days.
I said it again. The fact that it scared me so much made me realize that this was it. A project like this accomplishes everything that I wanted to accomplish personally, while ultimately fulfilling mom's dream.
So mom, this is for you. Thank you for continuing to inspire me today, just as you did every day you were alive. I miss you, I love you, and I hope you are proud of me.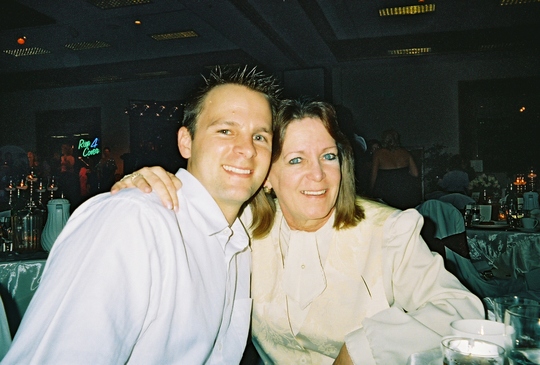 And to those of you reading this, your support also inspires me. I hope this project may inspire you to make some time to volunteer in your community.
You can also help in other ways too! Please take a minute to leave a comment on the articles, follow the project on Twitter and/or Facebook, tell a friend about the project, and feel free to contact me with any questions or comments.
Thank you immensely for your support.
From my heart,
Erik